Clarice Beckett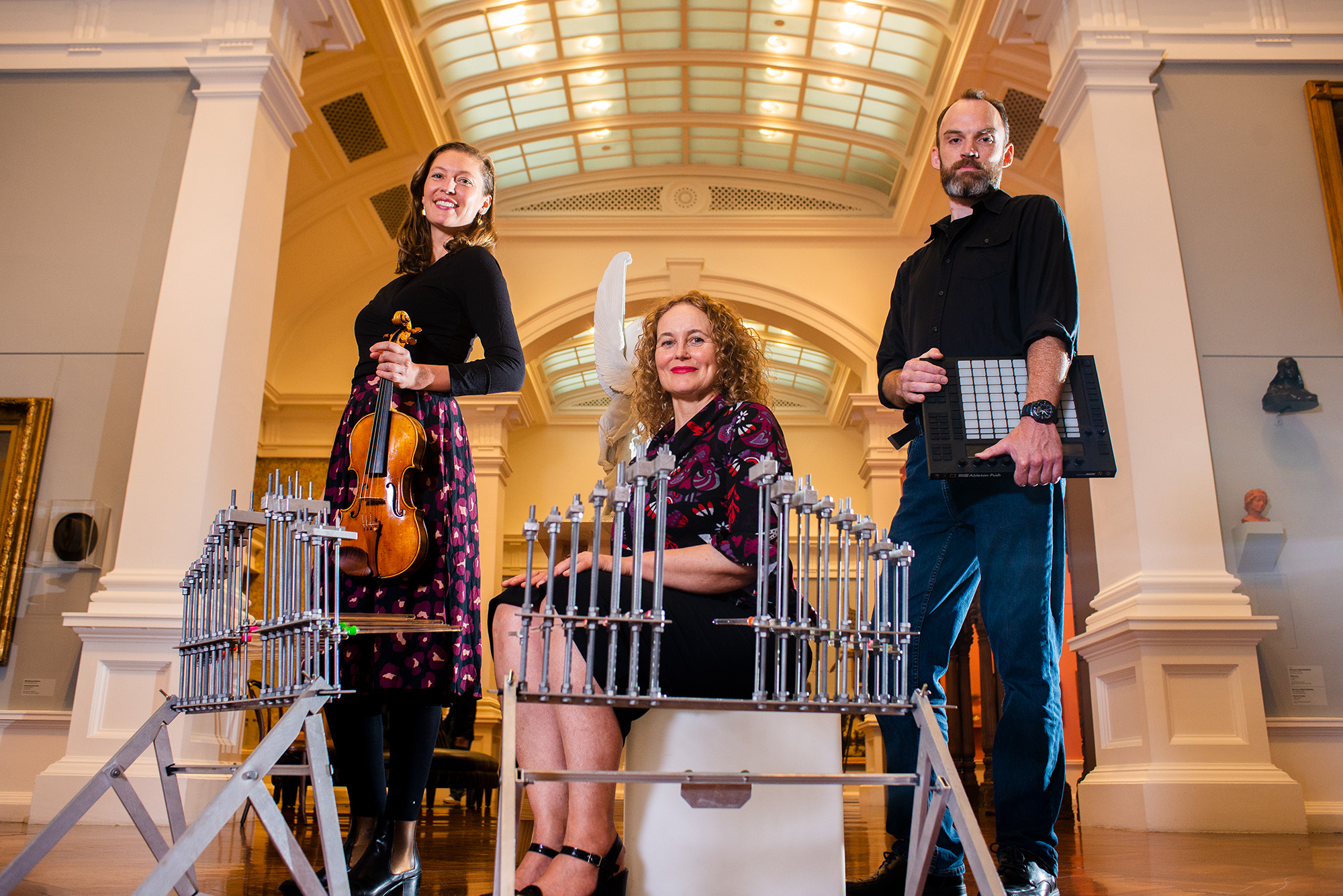 NEW ALBUM RELEASE
the present moment
Music inspired by Clarice Beckett
Solitude - Simone Slattery
C drift - improvised by Daniel Pitman, Simone Slattery and Gabriella Smart
the delicate illusion of reality - Gabriella Smart, electronics by Daniel Pitman
Morning Light - improvised by Daniel Pitman, Simone Slattery and Gabriella Smart, arranged by Daniel Pitman
In early 2021, a year of unexpected happenings, the name Clarice Beckett leapt into the consciousness of art-loving Australians. 'Clarice Beckett: the present moment', the Art Gallery of South Australia's exhibition of Beckett's works (and largest exhibition of her works to date) was a resounding success, sending airwaves through the Australian arts community. Indeed, in a miraculous few months of relative Covid-freedom, thousands flocked to the exhibition from all over the country. Simone Slattery and Gabriella Smart were commissioned to write musical works inspired by the exhibition, and it was through their collaboration, along with sound artist Daniel Pitman, that this album was born. Two of the featured works were composed specifically for the exhibition, and two were entirely improvised in the spirit of Beckett-inspired collaboration.
"my pictures like music should speak for themselves" (Beckett)
The album begins with Solitude, a work by Simone Slattery for solo violin. Composed in one continuous movement, Solitude follows the course of a day in the life of Clarice Beckett, beginning in the soft morning light, moving through to brighter beach scenes, and eventually fading with the setting sun. The work was shaped by many elements of Beckett's life and creative output, in particular her extraordinary use of light, the natural soundscape of her home in Beaumaris, and the experience of solitude. Light is represented through a gentle palette of musical colours and a repeated motif of arpeggiated harmonics that has its final iteration at the end of the work. The continuation of this arpeggiated figure conjures the rolling waves of the Beaumaris coastline, and field recordings from coastal Victoria by preeminent nature recording artists Andrew Skeoch further draw the listener into the sound world of Beckett's home. The experience of solitude is explored through reflection on Beckett's life, as a deeply human experience with particular poignance during the pandemic period in which the music was composed. The opening theme, repeated later in the work, explores this notion, with the two violin notes beginning in unison and gradually moving away from each other in a series of ever expanding and contracting phrases, before ultimately finding a release at the top of an ascending scale.
Order the CD at:
https://store.agsa.sa.gov.au/collections/agsa-exclusives/products/beckett-cd
https://bowerbirdcollective.bandcamp.com/album/the-present-moment-music-inspired-by-clarice-beckett